Curious to hear how long your Accent's take to warm up. Mine takes a very very long time. I took it into the dealership thinking it had a stuck thermostat.
They assured me that it was normal. Before I went toe to toe with them I figured I would get some input here.
They first told me that they started it cold. The paperwork says the startup temperature was 114 degrees, fairly warm. So they never let it cool down to start. After 4 minutes engine temperature was 130 degrees, after 12 minutes temperature was 151 degrees. So 12 minutes of idle gave it roughly 40 degrees? I'm thinking the thermostat isn't closing all the way. It will eventually get warm on the interstate. I ended up taking with the service manager, he said that because there was no code, there was no problem. I think because it will eventually get warm there would be no code. This thing takes longer than my V-8 Ford to warm up.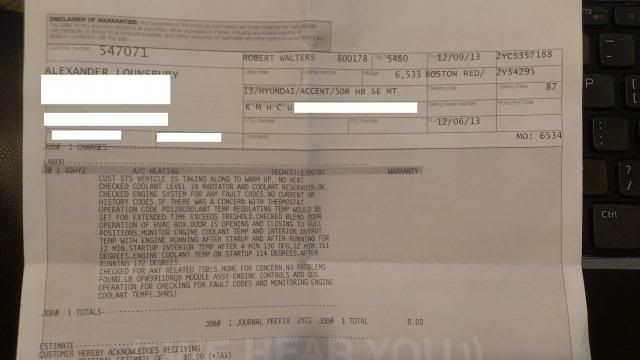 EDIT: It was about 25 degrees Fahrenheit when they ran the test.