Discussion Starter
•
#1
•
Hello everyone,
First of all, thank you for all your help when it comes to solving issues on the XG300. I had three major fixes done to my car and now it rides like a new car.
Currently I am in the process of turning my XG300 into my own custom XG300LSX model(Luxury Sedan Xtreme Edition). I know that doesn't sound nice rolling off your tongue but that is what I'm calling my project.
There are major things I am looking into doing with this car. Below I will post them and what they consist of in work and cost.
1. Carputer, including a laptop base, Flux Media CENTRAFUSE as the UI.
2. Sounds system including 2 600 WATT Amps, Pioneer Speakers and Tweeters.
3. Molded Rear window spoiler
4. Turn Signals in Side Mirrors, ALL LED and custom made.
5. Spoiler from Ixion, including XG 2004-2005 Tail lights and trunk.
$150
All my Carputer logs will be put here, I am currently working with a DELL Inspiron 1520 Base w/ a Core 2 Duo Processor.
Here are the current specifications on the computer:
Processor: Intel Core 2 Duo 1.5 GHz Processor
RAM: 2GB of Memory Ram
HDD: 80GB HDD at 5200 RPM
Interface: Flux Media Centrafuse 3.0

I have been working on Centrafuse on getting it optimized for this system. Centrafuse is running smoothly although it does seem to lag on certain areas when playing music and using the GPS Navigation. This is probably due to the heavy graphics on centrafuse. I will try to lower them and see how it goes.

I have also decided to remove the Centrafuse logo from the middle of the interface and replace with with something a little bit more custom. Here are before and after pictures of the modification:

Before:

After: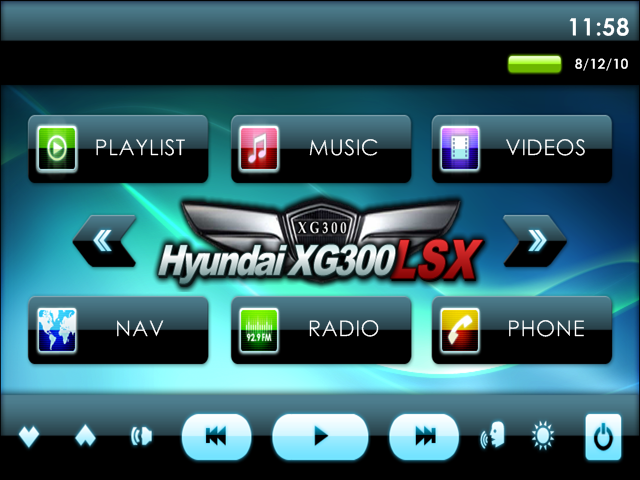 Stay Tune for more updates!!!