Well, my 2011 Elantra & the water heater reside at home within a few feet of each other…AND…they both gave up on me the same night. So, I suppose I could've posted this on the "…in and around my Elantra" thread.
Wednesday night was eventful for stuff breaking. Since I fix things for a living, I despise having to fix my own stuff when I get home. I break out in a cold sweat if I see a screwdriver on my day off. But since I fix most anything, it's inevitable. That's why I prefer anything maintenance
FREE
!
So on Wednesday night, my daughter had to lead me home in her car when I got off at 11:30 since my Elantra was no longer road-worthy. When I
GOT
home, I then discovered that I had a flood of water covering the garage floor from my water heater. I finally got around to fixing both problems today.
The water heater was familiar territory for me. I can do that blindfolded. I replaced my twenty-two year old 40 gl gas heater with a scratch 'n dent 240v electric equivalent. Not too bad for 150 bucks. Just need to get me an old fashioned "pie-pan" (or something suitable) to cover the former water heater's flue vent to the outside to finish my work. I stuck a towel in it in the meantime. Also gotta terminate the gas line as a drop leg.
My electric service panel was conveniently "right there" and already had a 30a breaker marked WATER HEATER that hadn't been used in…well, twenty-two years. The electric water heater was F-A-R cheaper than another gas unit, so this worked out well for me. Natural gas USED to be cheap to run, but I'm not seeing that now.
By the way, twenty-two years is an exceptional service life for that previous water heater. They don't make them like that anymore.
The HEADLIGHTS on my Elantra?
Well, when I'd purchased this 2011 Elantra on the 1st of August, I discovered it had been converted by its former owner to ALL HIDs up front (low, high & fog…which was a bad idea).
It was all good while it lasted…for seven weeks. I DID enjoy the GREAT visibility the HIDs provide, which was far superior to any vehicle I''ve ever had. Yet, I was concerned about any maintenance - obviously with the question as to
where
I could get parts to repair a failed headlight.
After doing some research, I was then reluctant to keep the HIDs in there at all. It appears that replacement parts (bulbs, ballast) have to come from Japan, based on the brand of HIDs I had. So it wouldn't be as simple as merely dropping by the nearest auto parts store for a new bulb. Plus, once one eventually DID go out, I would've had to do some troubleshooting first by doing some bulb swapping between left & right sides just to determine…is it the bulb <OR> is it the ballast that failed?
Too much was going on here just to make headlights -
LIGHT UP
. I simply need a good, reliable, economical means of transportation each day. The Elantra IS that…except for the modification that wasn't.
Did you notice the "past tense" - it WAS, enjoyed, hadn't, appeared, had, couldn't, wasn't?
HERE'S WHERE THEY WENT -
On Wednesday night while at work, I decided on some fast food for lunch. I was driving to my destination when I got - the
HID FLICKER!
Now, this wasn't your ordinary flicker that everyone puts on Youtube and says to resolve by adding an ANTI-flicker capacitor. Both low beams were seriously "strobing" in a way which was so serious that they'd rapidly fluctuate going OUT, then flash on for a fraction of a second, then out, then on again, etc., etc. in a random rate
NOT
in a way like, say, a police car's emergency lights. They were fluttering on and off intermittently.
It was horrendous! I'd never seen lights on a car do such a thing! At this point I was gravely concerned, so I turned around and was trying to get back to my work's parking lot when the lights went out completely and stayed out! So I had to get off the road quickly (and in the dark) by veering into the next available parking lot. When I stopped, I fiddled around by trying the high beams and the fog lamps, but they wouldn't work either. So I just turned them off altogether. I let them rest for about ten minutes and then turned them on again. Thankfully they stayed on long enough to get me back to work.
Oh…I didn't make it anywhere to get any lunch.
I work at night. I had to call my daughter after this happened so she could meet me when I got off at 11:30pm. She led the way for the eighteen mile drive home. I stayed right behind her. I tried to be "normal" on that drive home by running with headlights, but the flicker set in again within just a few miles. I gave in and just turned the headlights off altogether. We drove most of the way with me on her tail at a slow speed with our emergency flashers on.
I subsequently drove my gas-hog Golden Charriot (Silverado) to work for the next three nights.
I was off today, so after I installed my new water heater (1st priority), I turned to replacing the car's headlights.
Six ballasts, six relays, a mess of wires and plugs…and the two low beam HIDs got taken out. What an amazing the amount of wiring I tore out of it just so I could go "old fashioned" again by installing two simple Sylvania Silverstar H11 bulbs. I didn't purchase any "regular" high beam or fog bulbs yet, so I just left the HIDs bulbs in there, disconnected, to keep the holes in the lamp fixtures plugged up to keep out moisture.
Car with the HIDs before they quit: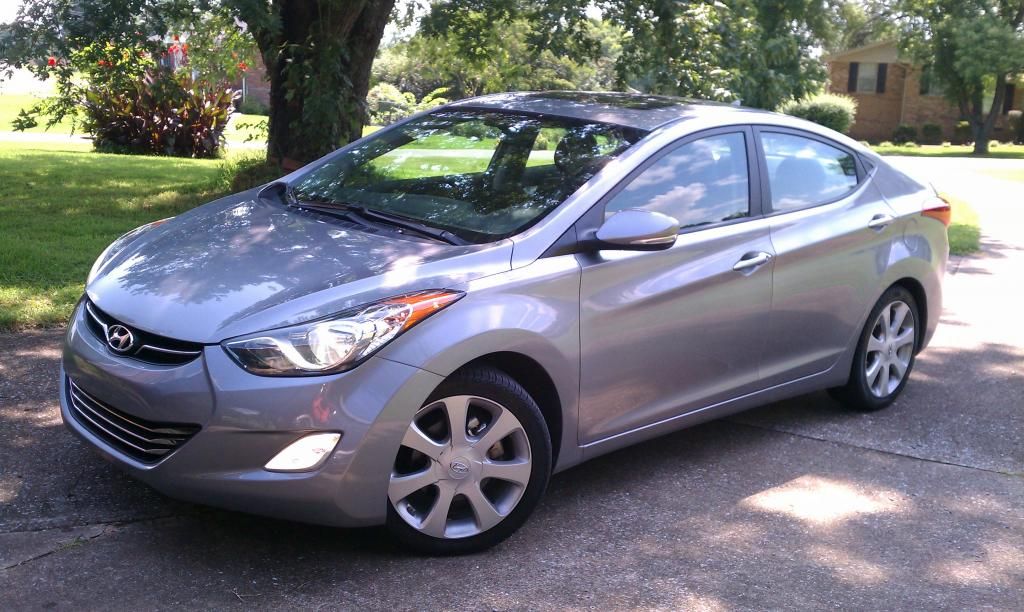 The dissection to remove the HIDs:
The mess afterwards: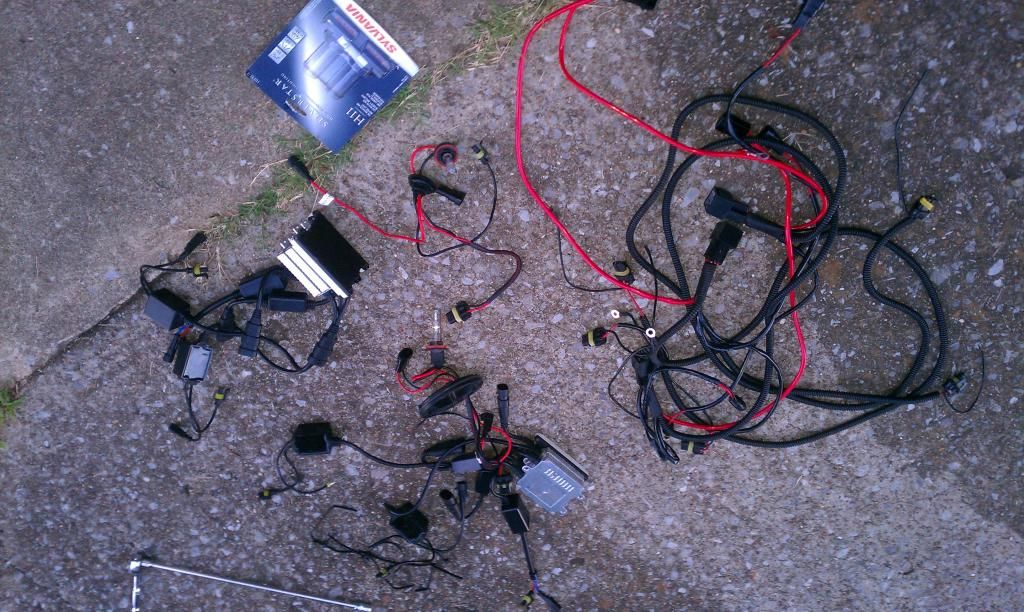 The OH-SO simple replacements: