Discussion Starter
•
#1
•
I've been wanting to replace the stock front grill, mainly to get rid of the huge H-emblem, but wasn't able to locate an aftermarket source. The only solution was a DIY job. I found a great website that had a video tutorial of customizing a 2018 Sonata grill (
Custom Grills, Mesh Sheets, and More
). They carry a variety of aluminum mesh sheets with differnt sized opennings and patterns. I ended up going with the one shown in the video as it seemed to look pretty good. Matt from CCR said he no longer sells the precut Sonata grill but was willing to do one for me. I ended up just getting a full uncut sheet as it was a little cheaper and I wanted to be sure the fitment was right for my grill since the one he makes was for the sport grill.
I bought a stock grill off ebay to use as the donor.
The center part was cut out using a dremel 543 cutting/shaping wheel. The process was slow but eventually I got around the entire thing and removed the inner section. The rough edges of the frame were sanded down to provide a surface to attach the mesh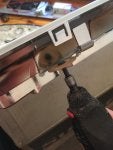 The black powder coated perforated GT mesh was cut with tin snips. Again, the process was slow and painstaking and took several passes to get the right fit. The edges of the mesh were pretty sharp and I cut myself a few times so I sanded them smooth.
The frame was sanded down to roughen up the chome finish, then several coats each of adhesion promoter, black primer, and black top coat were applied. The overall flat finish look pretty good. The mesh was secured to the frame with zip ties, then several layers automotive goop wwere carefully applied all around. It seemed very secure once dried, but I wanted an extra layer of adhesive to be sure, so I applied a generous layer of black Upol tiger seal. Once the Tiger Seal cured, it was very secure. After looking at the finished product, it seems I cranked the zip ties on the top left portion a little too tight as it appears just slightly crooked. Hopefully there is enough flex in the grill that it won't affect install or leave a large gap.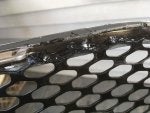 Now just waiting for good weather to install. I also plan to relocate the front plate lower so it does not block the new grill.