Discussion Starter
·
#1
·
Did my second Transmission Drain and Fill and took some pics of the process for those who may be considering doing the same. 2011 Sonata 2.4L with 57k on the odometer.
Let's get the Legal stuff out of the way.
Disclaimer: This is for informational purposes only. I am not responsible for any incidental or consequential damages arising out of anyone attempting these actions.
Things you'll need:
A way to raise all 4 corners of vehicle simultaneously and to the same level. I used 4 jack stands with a hydraulic jack for lifting.
3/8" drive socket wrench.
15/16" socket for removing drain plug.
10mm socket for removing belly pan bolts.
Phillips head Screwdriver for belly pan screws.
5qts ATF. I chose Valvoline Import Multi-Vehicle Full Synthetic ATF Part #788699. $6.49/qt at Advance Auto Parts. Or $20/qt for SPH-IV at the stealership.
Some kind of apparatus for refilling the Tranny through the level check hole. I have previously used a 3ft length of clear hose connected to a funnel. This time i used a bag with tubing already attached and a clamp to stop fluid flow as needed.
Procedure:
1. Raise vehicle and support all 4 corners at same level.
2. Remove belly pans under driver side to access transaxle.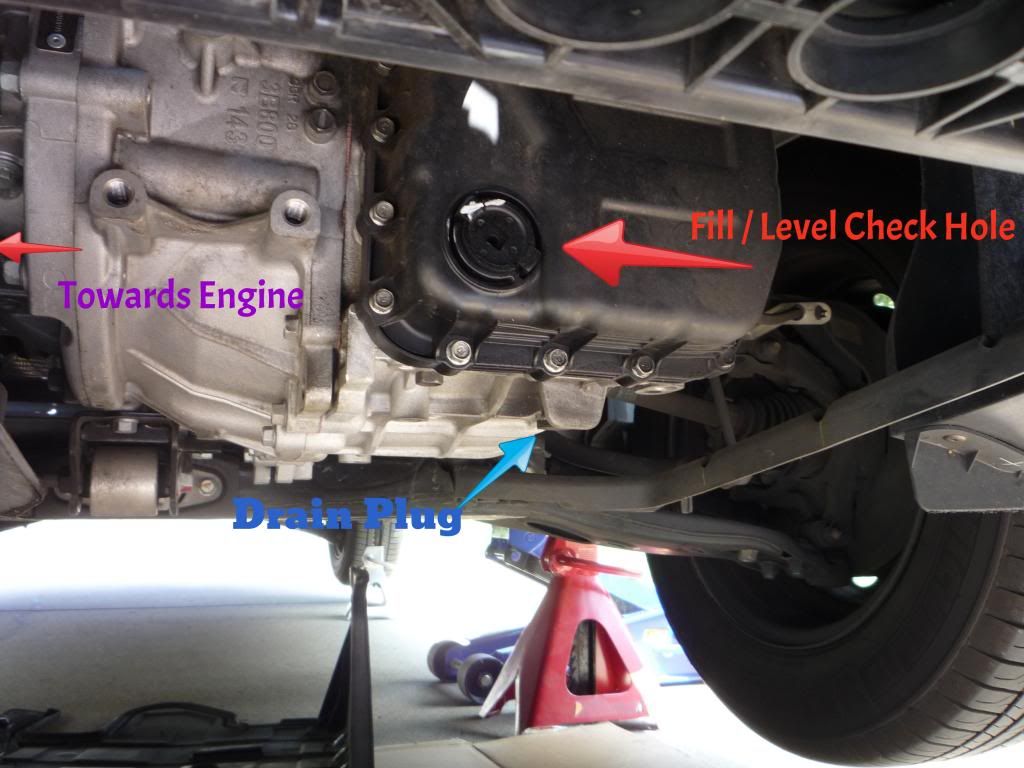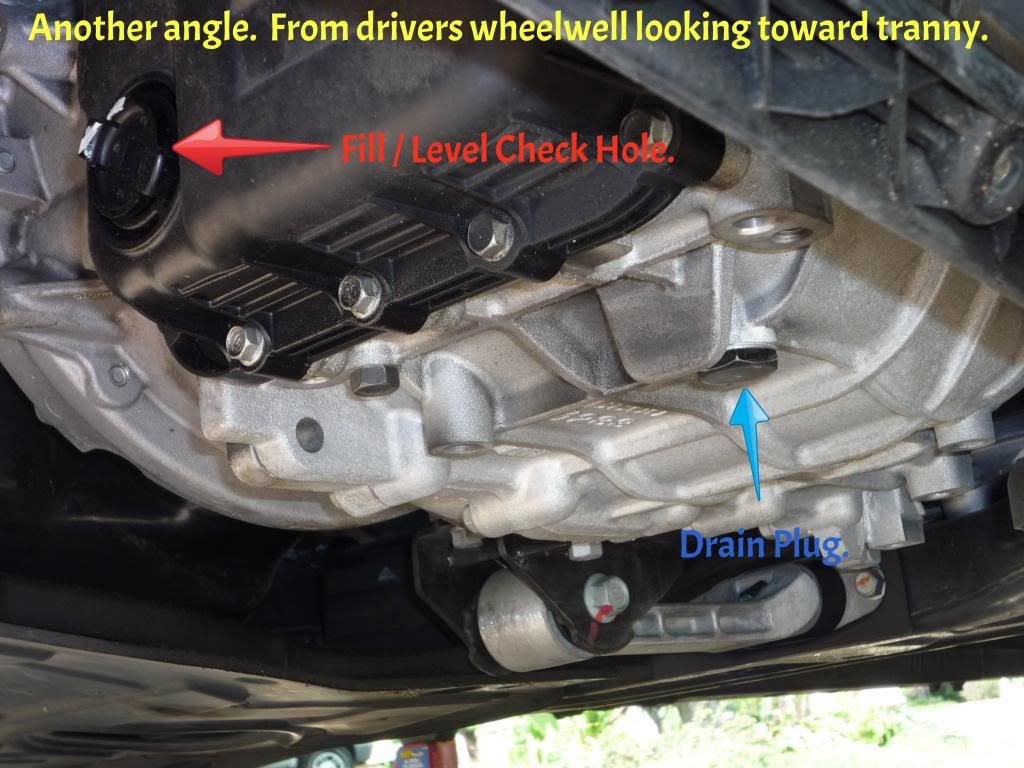 At this point it should go without saying, but i'll say it anyway. DO NOT REMOVE THE DRAIN PLUG UNTIL YOU ARE SURE YOU CAN OPEN THE FILL PLUG!!! For what should be obvious reasons...
3. To remove the fill plug, simply insert the 3/8" wrench driver head into the plug hole and turn anti-clockwise. Be gentle here, as this is a plastic plug.
Once you remove the fill plug, fluid will start to flow out so have a drain pan handy.
4. Remove drain plug and let fluid drain. Clean off magnet. Reinstall when complete. Find some way to measure how much fluid you drained out. I used an old 5qt motor oil jug with graduations on the side.
Your fluid will probably look much darker and less red than what came out here since this is my second drain and fill.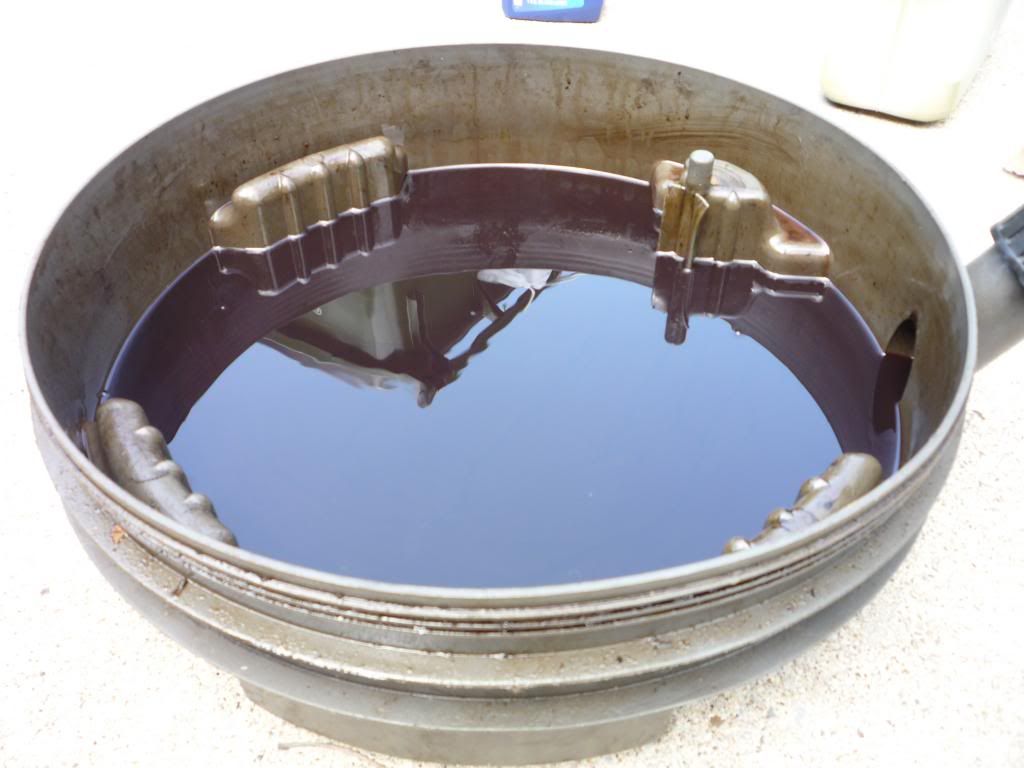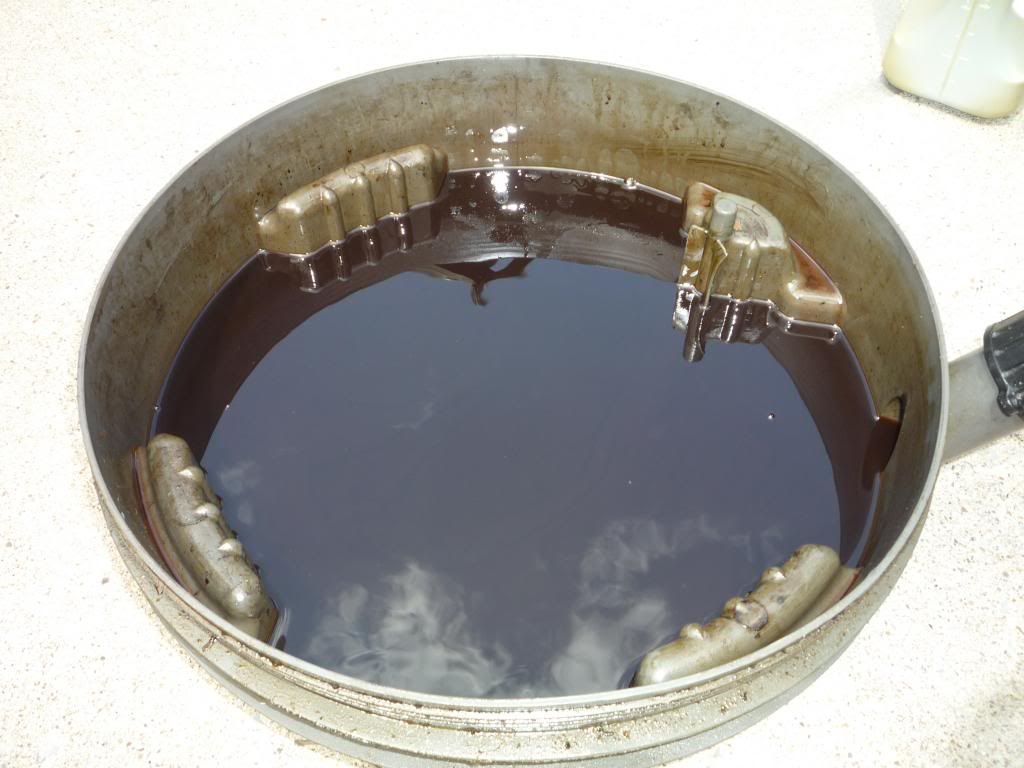 Pics of the plugs.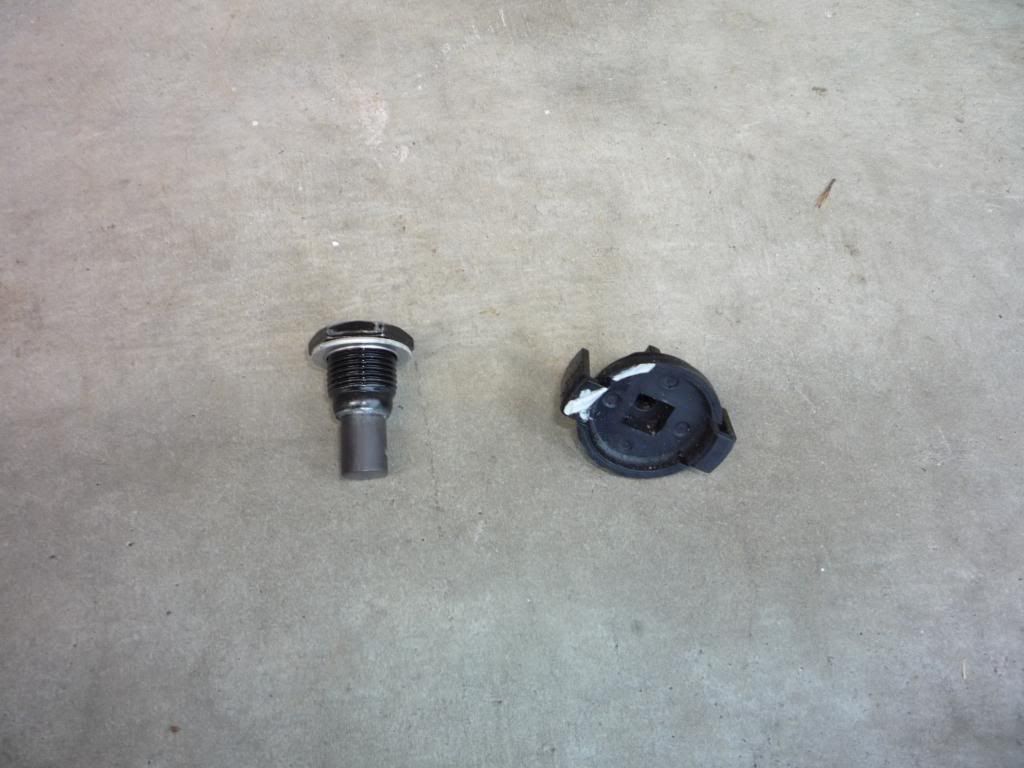 5. Add new fluid through the fill hole using whatever apparatus you've devised until fluid flows back out of the hole. Keeping track of how much fluid you've added.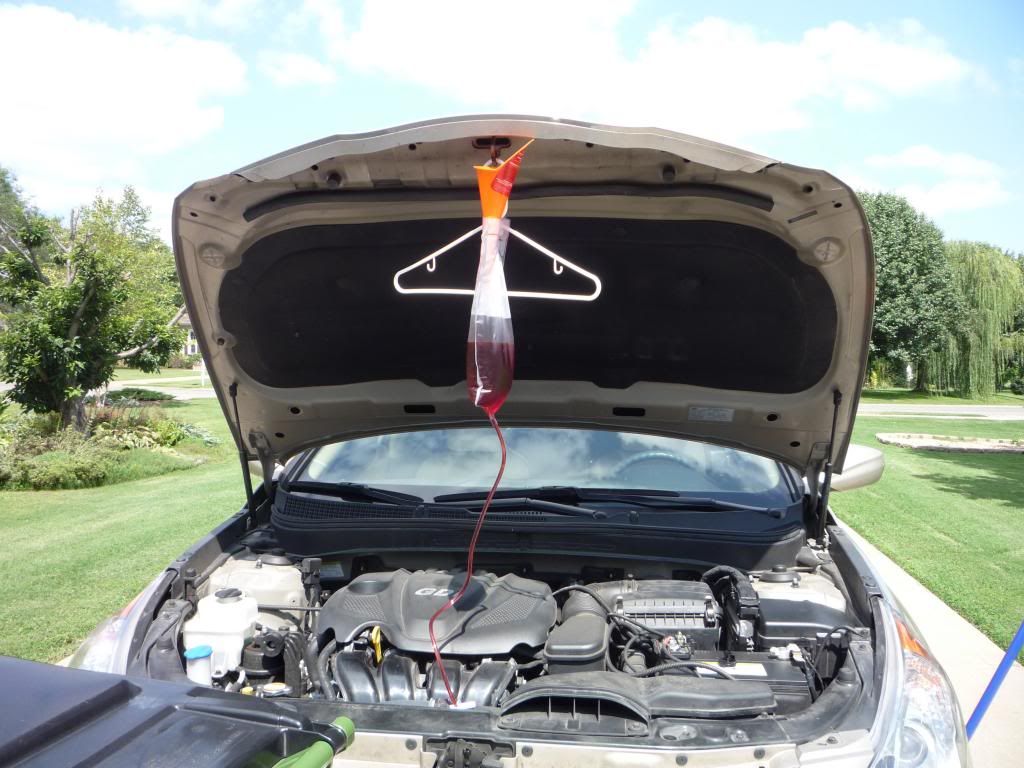 6. Start vehicle and leave idling.
At this point we come to a dilemma. You can either add back in however much fluid you drained out and be done. Or you can aim to get the level correct.
My fluid level was low the first time i did this procedure as no fluid drained out of the tranny when i first opened the fill plug. I believe it was not properly filled at the stealership when they completed the TSB for a faulty shift solenoid that made the tranny drop from 6th to 4th while at freeway speeds. So i had to aim to get the level correct. Here's how:
With vehicle idling, continue to add fluid until it once again overflows. I used an infrared thermometer for this step but i've come to realize you don't really need it. Reason for the thermometer is because the fluid expands as it get hot and we want our level to be correct at the proper temp which per Hyundai is 122-140F. Both times when i have done this the correct temp was achieved when the cooling fans first turned on, so that is what i use as my guage.
Once this is achieved, reinstall the fill plug, and you're done.
A few things to nip any future questions in the bud because folks infinitely smarter than myself will post them:
Q. Hyundai states the fluid is a "lifetime" fluid and never needs to be changed, so why are you changing it?
Because it makes me sleep better at night. And because i have an understanding of how friction clutch based transaxles work, how fluids degrade over time with use, and how fluid contamination from suspended sheared off friction material can turn fluid into liquid sandpaper.
Also, i prefer synthetic lubricants. And "lifetime" is quite a subjective term. At best case it means lifetime of Hyundai's 100k powertrain warranty, which at 60k currently and 2 years into ownership i'm sure sure i'll exceed long before 10 years.
Q. Why didn't you use the fill hole on top of the tranny?
Cuz it's difficult to access without removing stuff. And i'm lazy...
Q. Won't you void your warranty since you didn't use OEM fluid.
No, if Hyundai requires me to use only their fluid, they must legally provide it to me at no cost. Under the Magnuson-Moss Warranty Act.
Q. Hyundai engineers know best, they designed and built the tranny after all, why would you go against their recommendations?
First because there is no harm in it for my peace of mind. And secondly because most manufacturers' like to minimize cost of ownership to make the vehicles look better on paper, this is not a new concept. Ideally, parts would fail just out of warranty necessitating replacement of the part or the entire vehicle. They are in the business of selling cars after all...
I'm sure there will be more, but those are all i can think of right now.