General Information
Packages
Basic model with 6 speed manual.
History
Bought it new with 17 miles on the clock.
Future track day car and daily driver.
Ultimate goal is to use a VT engine for a swap and lay down 300 horses to the ground when it's all said and done.
Long term project car and my best build to date.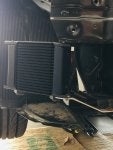 Modifications
Drivetrain
AEM cold air intake.

Evilla 2 point front subframe brace.
Evilla x-brace subframe brace modified.
FuelLab 10 micron fuel filter

Custom 3 point trunk brace made from a Lincoln Mark IV strut bar.

Evilla rear torsion bar bought from Pierce MotorSport.

SxthElement lightweight revamped water pump and crank pulleys.

KDMTuners billet racing oil pan is in and waiting for the rest of the oil cooler materials to install.

Setrab 19 row oil cooler w/ integral cooling fan, Setrab isolation mounting bracket, Mishimoto high flow sandwich plate w/ 160 degree t-stat, and all accompanying fittings and s.s. hose but waiting for my 1qt Accusump pre-oiler setup to complete the oil cooling setup.

Elantra 60mm throttlebody. Half shaft mod coming soon and knife edging the throttle plate for smoother flow.

Throttlebody coolant bypass.
Dual catch can using Mishimoto and SAIKOUMICHI Catch cans.

Mishimoto billet red oil cap from Evilla.
SoCalGarage Delrin shifter cable bushings by
SxthElement.

Upgraded grounding and battery wiring.
SxthElement lower racing engine mount dog bone using 85 durometer bushing.

TurboTechRacing upper engine racing mount.
Torkon rigid collars from KDMHolic.
Whiteline adjustable sway bar end links from Evilla MotorSports.

Moog camber bolts.
H&R springs for now but DGR coilovers are in waiting for the axle swap to install.
Interior
NRG gen2 quick release.
NRG short hub adaptor.
NRG reinforced steering wheel.
SoCalGarage billet shifter bushings.
Dewhel shift boot adaptor-modified for reverse lockout.

SickSpeed gold weighted shift knob.
Ultragauge OBD2 gauge.
OnlineLedStore 4 gang switch box for gauges on/ off actuation.

Holley stand-alone CanBus programmable led shift light.

AutoMeter gauge pods mounted on steering cover housing oil and fuel pressure gauges and pods mounted on a-pillar for boost and oil temp gauges coming soon.

Mounted class BC fire extinguisher for safety and track use.

Corbeau Forza fixed back racing seats on Corbeau modified Toyota sliders.

Weather tech front floor mats.
Sparco aluminum pedal set.
Exterior
Subaru aftermarket lip installed on front bumper lip.

Korean OEM factory rear spoiler painted factory white.

KDMHolic lower led rear bumper lights.
Custom led side marker lights front and rear.
Modified lower front OEM grill to allow more air flow to the radiator, future oil cooler, and fmic.

Functional corner non fog light openings for air flow to cai.

Verus Engineering '15 Ford Fiesta ST hood louvers from Whoosh MotorSports.

Rennline front tow hook hard mounted to crash bar.

Rear 10mm rear tow hook.
Chase Bays 6061 aluminum 20oz windshield washer tank w/ integral washer motor.
Audio
Stock
Exhaust screaming is my symphony. 😂
Lighting
All led converted inside and outside.
Exhaust
Evilla Motorsports mid cat delete pipe.
Custom axle back.
Wheel and Tire
Konig Rewind rims with 15x7 size and 40 offset 14 pound weight each.

Yokohama S1 summer tire with 205/50R15 size.
McGard wheel lug with red tips.

949Racing billet valve stems in red