Junior Member
Join Date: Mar 2008
Posts: 16
Mentioned: 0 Post(s)
Quoted: 0 Post(s)
(Thread Starter)
Hi,
Hitting the 30k mark and would like to know if anyone performed a flush on their Santa Fe Limited Automatic Transmission yet? From my understanding, there's a transmission cooler from factory and by experience I've flushed from the line coming from the transmission to the cooler which leads to the radiator at least on my Toyota Tacoma Truck. Just wanna know if anyone else had any experience changing their own transmission oil and avoiding the "Stealer"
-Anthony
Senior Member
Join Date: Sep 2009
Location: Buffalo NY
Former 2008 Hyundai Santa Fe, GLS, AWD, 2.7L owner. 2008 Honda Odyssey LX
Posts: 947
Mentioned: 0 Post(s)
Quoted: 0 Post(s)
They are so easy to drain/fill given they have a drain plug, I personally wouldn't bother with a cooler line ATF exchange. This applies to both the F4A51 4spd and the A5HF1 5spd auto. As you will see from the write-up I did, I initially got scared because of a 'tab' in the way of the drain plug on the trans case, but it's an easy work-around. FWIW, I used Valvoline Maxlife ATF that is "suitable for use" where Hyundai SP-III ATF is spec'd and it's been flawless for me. Check here:
http://www.hyundai-forums.com/index.php?sh...67&hl=f4a51
I've also got write-ups on changing the T-case oil and rear diff oil if you need them. Again- real easy to do.
Joel
Senior Member
Join Date: Apr 2010
Location: hiding from those who might be looking for me
I dont own Hyundai car, I drive everybody else Hyundai during day
Posts: 13,624
Mentioned: 126 Post(s)
Quoted: 1331 Post(s)
In regard to the pics in the other topic and trans making it to 100,000 mile..
That case is now damaged... in event you need warranty trans, they get smart and see broken case, they may//can deny claim do to damage.. Be real careful.. Hyundai core charge is $1000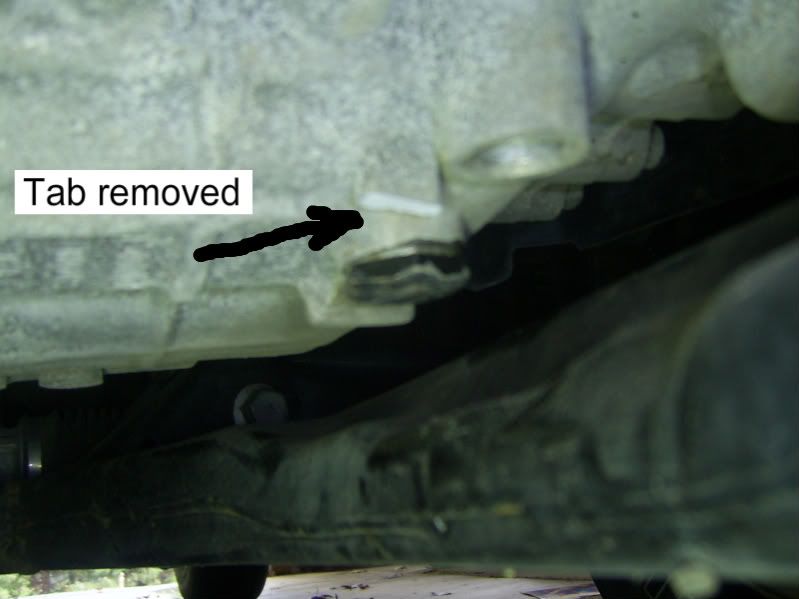 Forgot to add -- hows the snow out there.. seen bit on news. I gots friends out on RT 5 / Akron/ Genesee line on Erie side that said they not get too much there
---
<--- Please fill in the 'location' and 'what you drive(year & chassis) and engine size' boxes on your personal profile page.
This information makes it much easier for other members to answer/comment on your posts.
Junior Member
Join Date: Mar 2008
Posts: 16
Mentioned: 0 Post(s)
Quoted: 0 Post(s)
(Thread Starter)
Thanks Joel for the info! I guess i'll just go ahead and do the drain/fill method then.
Senior Member
Join Date: Sep 2009
Location: Buffalo NY
Former 2008 Hyundai Santa Fe, GLS, AWD, 2.7L owner. 2008 Honda Odyssey LX
Posts: 947
Mentioned: 0 Post(s)
Quoted: 0 Post(s)
No problem estoril73! I think you'll find this task easier than an engine oil change.

sbr711- Yes possible 'damage' to the case has been discussed before in my positing. With my particular F4A51-3 in my 2008, there was no way to access the drain plug with that tab in the way. I've never been able to get any info in regards to a special tool or procedure for drain plug removal. For what ever reason, other years are different, not effected by this or the frame being in the way and the 5spd is again different. That tab snaps off like it was designed to do so w/ little to no force. If I wanted to get all fancy I could take a grinder to it and clean up the uneven remnant that's left behind, such that only a dealer service dept *MIGHT* know it was once there. Again, I know that pic makes it look nice and roomy in there. It's not. If they did decide to call that "case damage" shame on them. That's 100% asinine. Regardless, I'm the 3rd owner of my 2008 and my warranty is up in 1Kmi (I'm at 59Kmi). This vehicle has been flawless for me.

Oh yeah.. the weather!! You're friends live about 15mi from me. We only got 8-10" of snow tops. Just a dusting!

Joel
Currently Active Users Viewing This Thread: 1

(0 members and 1 guests)